White Oak Amphitheatre Information
The Greensboro Amphitheater is a fairly new space. Previously the Canada Dry bottling plant, it was purchased in 2008 by The Coliseum Complex, an acclaimed facility consisting of museums, banquet halls, an enormous aquatic center, and more.
They envisioned a large, outdoor event space, where visitors and residents alike could come together and enjoy themselves. The Coliseum has always been a staple for the community of Greensboro, but the amphitheater provided them with more opportunities and endless entertainment during the warmer months. Named in honor of the Greensboro official tree, white oaks were even planted around the venue's lush perimeter.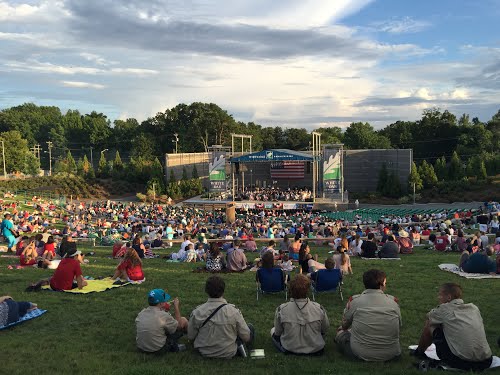 The diverse event list brings in rock concerts, festivals, arts & crafts, community events, and even hosts the entertainment at the annual Central Carolina Fair. The event calendar runs May through October, in rain or shine.
The venue provides guests with concessions of food and beverages and does not allow outside food in the venue. Lawn chairs are available for rent at $5 a chair, though guests are welcome to bring blankets. If using a lawn chair, the Coliseum asks that they be left on the lawn at the end of the event for staff to recover.
The Amphitheater prefers to keep events friendly to all. If guests wish to smoke there are marked smoking locations on the Hanner Street concourse. Smoking is strictly forbidden in the event area, including the lawn.
For the comfort of all attendees, solicitation is not tolerated in the venue or in Coliseum parking lots.
For guests with hearing impairments, interpreters are available free of charge. They should be requested at least 10 days prior to the event for scheduling purposes. Patrons who request interpreters may need to be seated together.
ADA seating is available in the amphitheater. Please see the seating chart to get a better idea of where they are located.